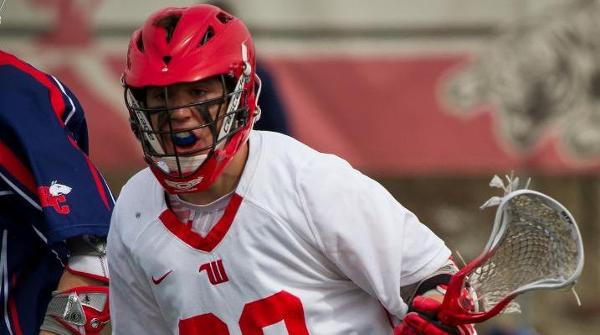 LEXINGTON, Ky. - Two long southern road trips down, two victories in the books under first-year Head Coach Jay Owen. A week after making the most of a visit to Nashville, Tenn., the Wittenberg Tigers maintained their momentum with a dominant 13-4 victory on the home field of the Transylvania Pioneers.
For the second straight week, it was a strong start that got the Tigers off and running toward a non-conference win. This time, however, Wittenberg kept up the pressure throughout the second half as well, pulling away from a 5-2 halftime lead to secure the nine-goal victory.
Wittenberg led 3-1 after the first quarter and 5-2 by the end of the opening 30 minutes. The Tigers then put together an even better second half, winning the third quarter by a 5-2 margin and shutting the Pioneers out 3-0 in the fourth.
For the second straight week, the Tigers spread the wealth on offense as seven different players scored a goal and three different players dished out seven assists. Leading the charge once again were the sophomore twins as Andrew Fuss (New Albany, Ohio/Gahanna Lincoln) finished with two goals and three assists on five shots and Thomas Fuss (New Albany, Ohio/Gahanna Lincoln) added three goals and two assists on six shots.
The most efficient offensive player for the Tigers was junior Sean Kelleher (Lake Forest, Ill./Lake Forest) with a career-high four goals on six shots. Junior Ryan Spitzer (Lincolnshire, Ill./Stevenson), freshman Zach Shy (Columbus, Ohio/Upper Arlington), senior Jack Bornhofen (Peachtree City, Ga./McIntosh) and senior Jordan Shoger (Cleveland Heights, Ohio/Cleveland Heights) rounded out the scoring with one goal each. Bornhofen also dished out two assists.
Junior Riley Boehm (Eden Prairie, Minn./Eden Prairie) was solid in the face-off circle again, winning 10 of his 19 chances. He also led the Tigers with seven ground balls and one caused turnover. Junior Will Stocker (Cincinnati, Ohio/Turpin) added three ground balls.
In goal, junior Jay Dolan (Andover, Mass./Phillips Andover) turned in a second straight solid start, making 12 saves. As a team, Transylvania was credited with 29 shots, compared to 39 by Wittenberg.